Detailing redefined - period.
Download Our Onyx Collection Detailing Brochure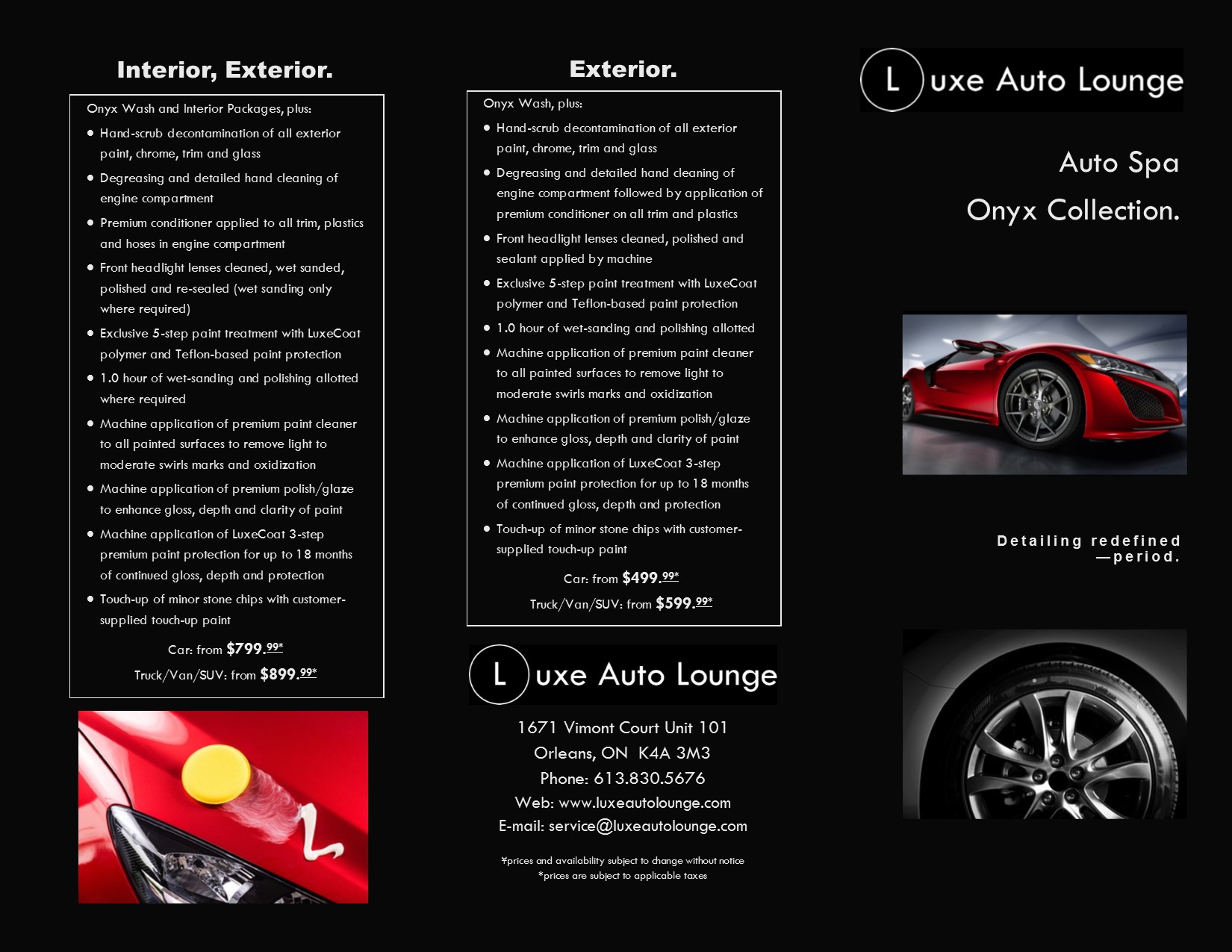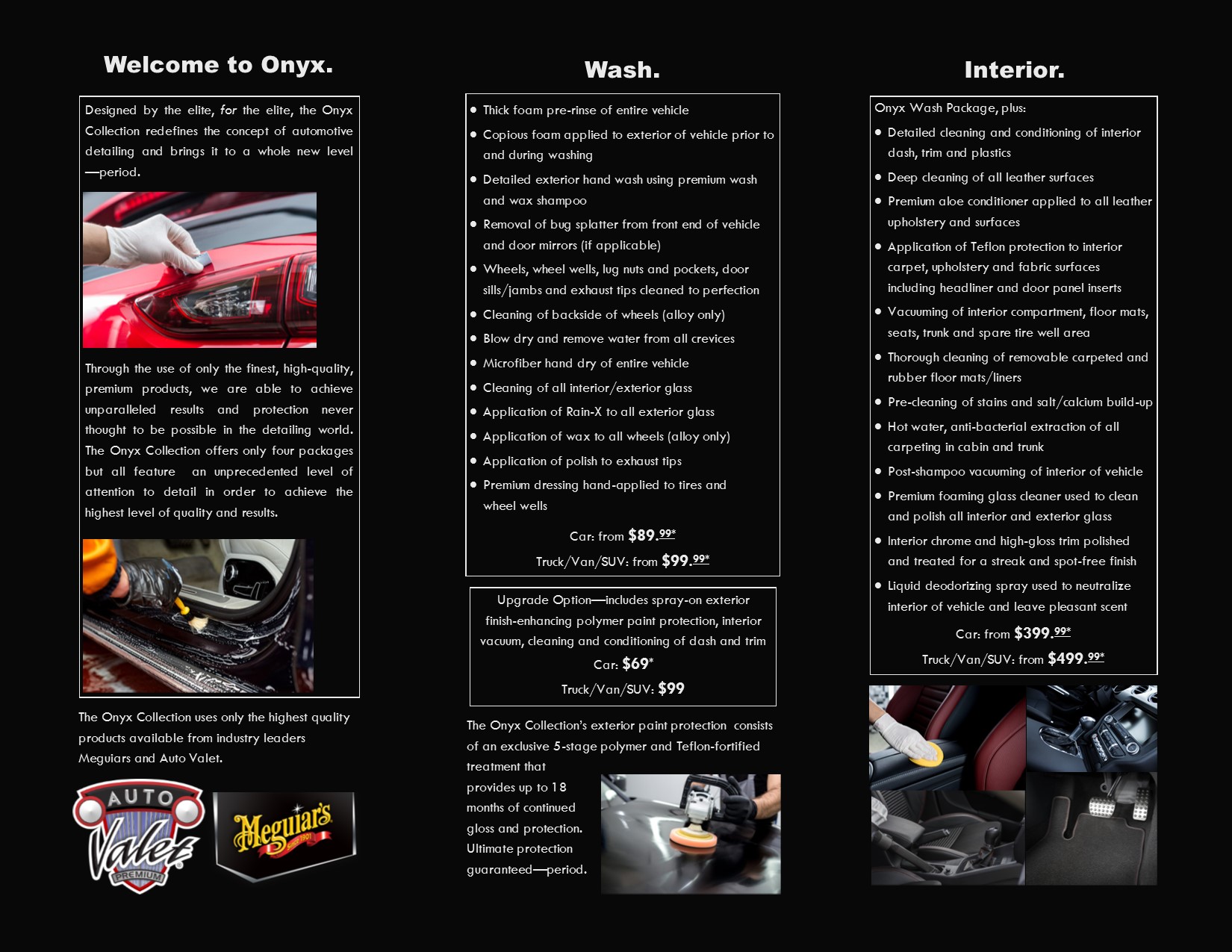 Welcome to Onyx.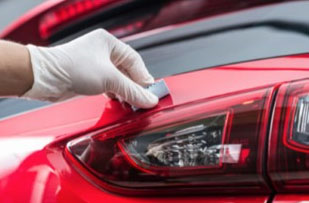 Designed by the elite, for the elite, the Onyx Collection redefines the concept of automotive detailing and brings it to a whole new level - period.
Through the use of only the finest, high-quality, premium products, we are able to achieve unparalleled results and protection never thought to be possible in the detailing world. The Onyx Collection offers only four packages but all feature an unprecedented level of attention to detail in order to achieve the highest level of quality and results.
The Onyx Collection uses only the highest quality products available from industry leaders Meguiars and Auto Valet.
Wash.
Thick foam pre-rinse of entire vehicle
Copious foam applied to exterior of vehicle prior to and during washing
Detailed exterior hand wash using premium wash and wax shampoo
Removal of bug splatter from front end of vehicle and door mirrors (if applicable)
Wheels, wheel wells, lug nuts and pockets, door sills/jambs and exhaust tips cleaned to perfection
Cleaning of backside of wheels (alloy only)
Blow dry and remove water from all crevices
Microfibre hand dry of entire vehicle
Cleaning of all interior/exterior glass
Application of Rain-X to all exterior glass
Application of wax to all wheels (alloy only)
Application of polish to exhaust tips
Premium dressing hand-applied to tires and wheel wells
Car: from $89.99*
Truck/Van/SUV: from $99.99
Upgrade Option - includes spray-on exterior finish-enhancing polymer paint protection, interior vacuum, cleaning and conditioning of dash and trim
Car: $69*
Truck/Van/SUV: $99
The Onyx Collection's exterior paint protection consists of an exclusive 5-stage polymer and Teflon-fortified treatment that provides up to 18 months of continued gloss and protection. Ultimate protection guaranteed - period.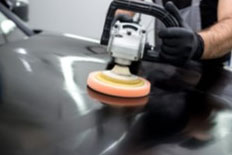 Interior.
Onyx Wash Package, plus:
Detailed cleaning and conditioning of interior dash, trim and plastics
Deep cleaning of all leather surfaces
Premium aloe conditioner applied to all leather surfaces
Application of Teflon protection to interior carpet, upholstery and fabric surfaces including headliner and door panel inserts
Vacuuming of interior compartment, floor mats, seats, trunk and spare tire well area
Thorough cleaning of removable carpted and rubber floor mats/liners
Pre-cleaning of stains and salt/calcium build-up
Hot water, anti-bacterial extraction of all carpeting in cabin and trunk
Post-shampoo vacuuming of interior of vehicle
Premium foaming glass cleaner used to clean and polish all interior and exterior glass
Interior chrome and high-gloss trim polished and treated for a streak and spot-free finish
Liquid deodorizing spray used to neutralize interior of vehicle and leave pleasant scent
Car: from $399.99* Truck/Van/SUV: from $499.99*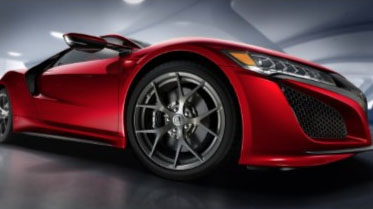 Interior, Exterior.
Onyx Wash and Interior Packages, plus:
Hand-scrub decontamination of all exterior paint, chrome, trim and glass
Degreasing and detailed hand cleaning of engine compartment
Premium conditioner applied to all trim, plastics and hoses in engine compartment
Front headlight lenses cleaned, wet sanded, polished and re-sealed (wet sanding only where required)
Exclusive 5-step paint treatment with LuxeCoat polymer and Teflon-based paint protection
1.0 hour of wet-sanding and polishing allotted where required
Machine application of premium paint cleaner to all painted surfaces to remove light to moderate swirls marks and oxidization
Machine application of premium polish/glaze to enhance gloss, depth and clarity of paint
Machine application of LuxeCoat 3-step premium paint protection for up to 18 months of continued gloss, depth and protection
Touch-up of minor stone chips with customer-supplied touch-up paint
Car: $799.99* Truck/Van/SUV: from $899.99*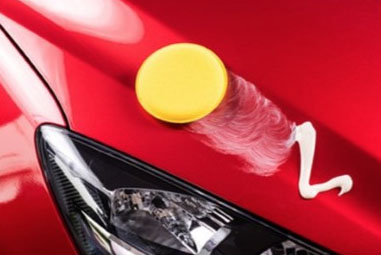 Exterior.
Onyx Wash, plus:
Hand-scrub decontamination of all exterior paint, chrome, trim and glass
Degreasing and detailed hand cleaning of engine compartment followed by application of premium conditioner on all trim and plastics
Front headlight lenses cleaned, polished and sealant applied by machine
Exclusive 5-step paint treatment with LuxeCoat polymer and Teflon-based paint protection
1.0 hour of wet-sanding and polishing allotted
Machine application of premium paint cleaner to all painted surfaces to remove light to moderate swirls marks and oxidization
Machine application of premium polish/glaze to enhance gloss, depth and clarity of paint
Machine application of LuxeCoat 3-step premium paint protection for up to 18 months of continued gloss, depth and protection
Touch-up of minor stone chips with customer-supplied touch-up paint
Car: from $499.99* Truck/Van/SUV: from $599.99*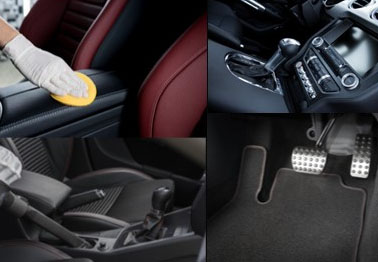 Book an Appointment